Corporate Limousine – Executive Car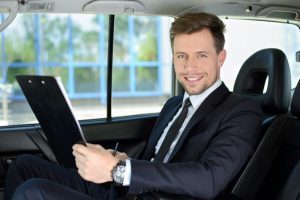 Executives and professionals are constantly traveling. As a result, much of their time must be given to "multi-tasking". If the means of traveling is efficient, in terms of both time and ability to work in transit, the transportation portion of a trip can actually add value to a businessman's day.
The goal of Hunter Livery is to provide this efficiency to top tier professionals via the imperative prerequisites for best-in-class car service – On-Time performance, a meticulously clean and comfortably quiet setting, modern office amenities, and safe transport with a knowledgeable, well-trained, impeccably dressed "concierge/chauffeur". If any of these traits are missing, the transportation to and from crucial appointments suddenly becomes the focal point and the Executive in question is burdened with an unwanted and unnecessary distraction.
Hunter Livery understands that to be the competitive leader in the Executive Car industry, we must deliver all aspects of the finest transportation experience to our clients on each and every trip. Our standard is to be 10 minutes early to all appointments, especially to airport arrivals as planes can run early. The interior and exterior of our entire fleet is immaculate, offering Wi-Fi and power/USB portals in every vehicle, as well as water, mints and other amenities. Most importantly, our chauffeurs are mannerly and attentive, singularly focused on delivering safe and first-class service to our clientele. When the travel time for which we are responsible has concluded, our goal is for our clients to have one word on their minds – "Exceptional".
We offer VIP and corporate limousine services for travel to and from:
• Airports
• Hotels
• Meetings
• Special Events
• Resorts
• Retreats
• Conferences
• Festivals
• Sporting Events
• Concerts
• Night on the Town
• And more!
Hunter Livery is fully insured and licensed with operating permits from the US DOT, FMCSA, and the APSC. We are also members of the National Limousine Association with an A+ rating from the Better Business Bureau. Our services are available 24 hours a day / 7 days a week. Call us at 251-285-9144.