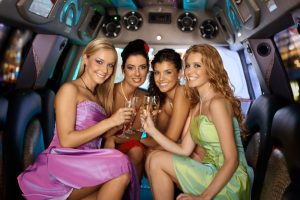 When the special dates on the calendar arrive, making them particularly memorable is desirable. Hunter Livery provides that unique touch to your special event via our best in class service, offering a broad range of price points. From our straightforward stretch vans to our top of the line limousines equipped with flat screen TVs, fiber optic lights and a full sound system, Hunter Livery can accommodate your outing with impeccable professional style.
Night on the Town Limo
Birthdays, anniversaries, retirement celebrations and office dinners name but a few of the reasons a "Night on the Town" can be especially memorable. With Hunter Livery providing the transportation, you can relax as you avoid all the worry about traffic, parking hassles and consuming adult beverages. Our immaculate and sturdy vehicles driven by the finest chauffeurs in the market will ensure that you and your party arrive at your various destinations safely and comfortably.
Concert Limo
The Central Gulf Coast attracts the world's best musical performers to its wide variety of venues: the beautiful Sanger Theaters, the fabulous Amphitheater at the Wharf and the Coliseums of Biloxi, Mobile and Pensacola. The musical spectrum spans from the grandeur of the Mobile and Pensacola Symphonies and Operas to the flip-flops and pop of The Hangout at the Gulf. Regardless of the setting or genre, Hunter Livery will fulfill the transportation portion of your occasion, allowing you to concentrate on the sweetness of the sound.
Sporting Events Limo
The Southeastern U.S. is arguably the most athletically fruitful and competitive real estate in the country. From our home, the College Football "shrines" of Auburn, Baton Rouge, Starkville, Tallahassee and Tuscaloosa are all within comfortable driving distance, as are the New Orleans Saints and Pelicans. Via the flat screen TV's in our top class vehicles, you and your fellow fans can watch the early games on the way up and the late games on the way back, never missing a crucial play. The same is true for all sports in the High School and Local realm. Forget the traffic, stadium congestion and a host of other issues as Hunter Livery accommodates your Sporting event travel plans.
Mardi Gras Limo
Parades, balls, and parties define Mardi Gras, the season of the year which highlights one of the most unique aspects of the culture of the Central Gulf Coast. "Carnival Season" is perhaps the time best suited for our services. Hunter Livery is available at all hours of the day and night to provide the finest – and safest – transportation that can be found at Mardi Gras. "Laissez les bons temps roule" in a Hunter Livery.